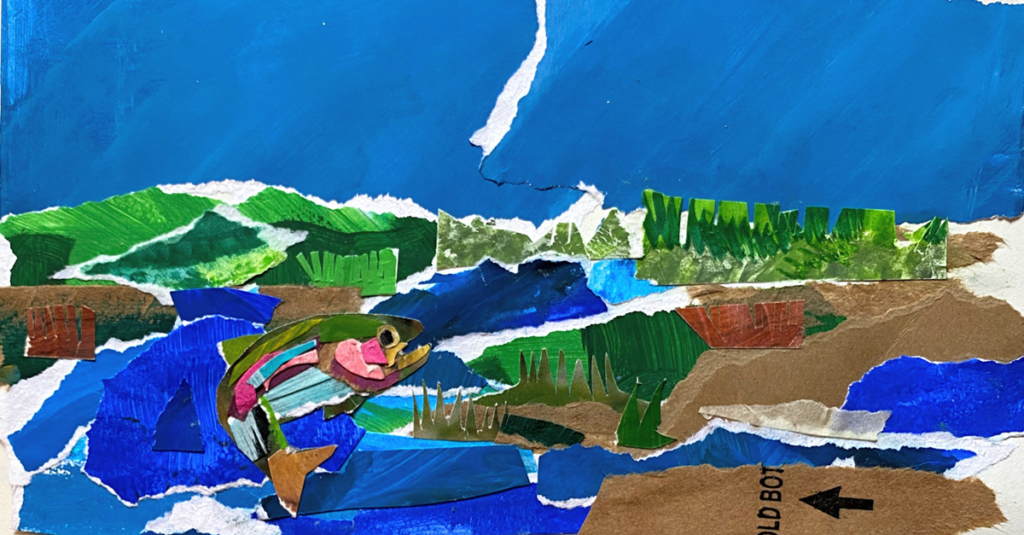 Trout Stream
Collage on Paper
High-Capacity Wells
Collage on Paper
Trout Stream and High-Capacity Wells communicate the motivation for Dr. Dana Lapides's water research. Dr. Lapides is working with the Wisconsin Department of Natural Resources to develop a statewide process to evaluate the potential impacts of high-capacity wells on nearby stream ecosystems. When Anna Klein first learned of Dr. Lapides' research, she was struck by the ecological, economic, and legal complexities related to groundwater use in the state of Wisconsin. Throughout her creative process, she sought to simplify these complexities by depicting the Wisconsin landscape through colorful and candid compositions using a collage method reminiscent of children's book authors like Eric Carle. Klein's goal was to show the ways in which groundwater pumping alters the physical landscape while also highlighting the beauty and importance of the ecological communities that are threatened by this alteration. She hopes that you enjoy High-Capacity Wells and Trout Stream as much she enjoyed making them!
Anna Klein is a sophomore at UW-Madison majoring in Art Education with a certificate in Education Policy. Klein is passionate about making art, helping people make art, and spending time outside. When she came across the Flow Project, she knew it was a fantastic opportunity to combine her creative interests with her concern for protecting the natural spaces of Wisconsin. She looks forward to further work within communicative visuals for scientific research!
ABOUT THE Water Researcher
Dr. Dana Lapides is the Wisconsin Water Resources Science Policy Postdoctoral Fellow, a role that bridges UW-Madison's Water Resources Institute and Wisconsin's Department of Natural Resources to tackle science and policy issues facing Wisconsin. Dr. Lapides' work engages with climate change and the increasing demands on water resources changing streams worldwide. She uses a variety of methods in her work, from analytical modeling and high-performance computing to laboratory scale modeling. Dr. Lapides completed her PhD at UC-Berkeley in May 2020 with Professors Sally Thompson and Michael Manga.