Researcher Emily Tyner is leading the designation process of creating a National Estuarine Research Reserve in the Green Bay Estuary. The goal of the NERR is to both to preserve and study the estuarine ecology of this unique region, and to examine the effects of climate change, industry, and development along this coastal environment. Tyner's call for an artist sought to pull at the cultural, ecological, and social importance of the area itself, a place which has brought sustenance to the First Nation people of Wisconsin long before European settlers arrived. The image is serves as both a celebration of the NERR, and a possible logo. 
Katrina Harms' art often uses high contrast natural imagery to evoke a sense of symbiosis and interconnectedness, and she chose several particular marsh animals and plants to feature: the Great Egret, painted turtle, dragonfly, Siberian irises, water lilies, and, of course, the reeds and cattails of the natural environment. By Tyner's suggestion, Harms created an intentional shape of the bay within the negative space to indicate that this area is not simply the city or port of Green Bay, but the entire coastal bay region. The piece is 14 x 17" micron pen on paper.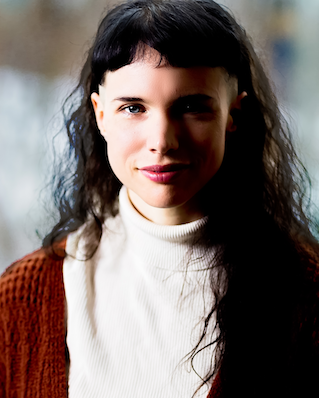 A returning Art Education student, Katrina Harms works in a variety of media: pen and ink, watercolor, oils, and mixed media collage. Her artistic themes include the interconnectedness of nature, embodiment of relationships and trauma, death, rebirth, and folklore/mythology. A passionate environmentalist, Harms is honored to take part in this art collaboration and is excited by any opportunity to work interdisciplinarily. As an educator passionate about STEAM and arts integration, and as an artist and musician with many different interests, using visual arts to advocate for ecological sustainability is a dream come true. Explore more of Harms' work here.
Emily Tyner is the first ever Director of Freshwater Strategy, a new role at UW-Green Bay focused on building campus and community partnerships around water. A major part of Tyner's current work is leading the designation of a National Estuarine Research Reserve (NERR) for Green Bay and Lake Michigan. She's particularly curious and excited about the prospects of partnering with artists to make sure the reserve represents all the ways water touches our lives, including art, literature, storytelling, culture, and other modes of being and expression. Tyner is also a a Doctoral candidate in the School of Freshwater Sciences (SFS) at the UW-Milwaukee, where her dissertation focuses on the Human Dimensions of Natural Resources and Science Communication.