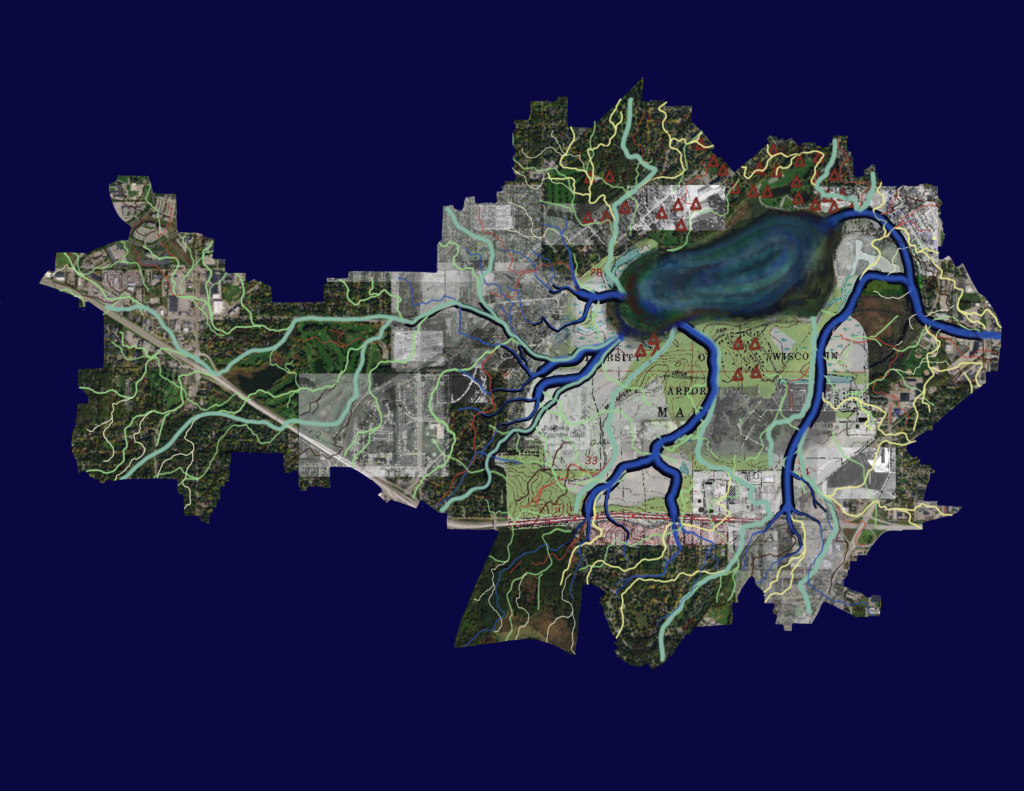 Wingra Watershed Networks (36" x 24") communicates the work Arboretum Director Karen Oberhauser is a part of at the WATER project within the University of Wisconsin Arboretum. The WATER project strives to educate and engage community members on urban stormwater issues that impact the health of Lake Wingra.
When Margo Butler first learned about the WATER project at the UW Arboretum, they were especially excited about the opportunity to communicate the community engagement aspect of the WATER project. The art piece Wingra Watershed Networks is a digital collage showcasing this network of stormwater flow from lawns, houses, businesses, and city streets into the ecology of Lake Wingra. The different colored lines represent how different pollutants, nutrients, and sediments travel into Lake Wingra due to urbanization and how this can be mitigated through individual and neighborhood efforts, such as planting a rain garden or removing leaves from street gutters. The thicker lines depict stormwater entry points into the lake with the highest average annual runoff. Each small stream of water is a part of the whole and this larger network of water flowage. 
The ecological and social history of the land contributes to the present day story of the Lake Wingra watershed and Margo illustrated this through the medium of digital collage in Photoshop. The art piece is comprised of various aerial maps from 1937, 1962, and 2015. While members of the Ho-Chunk Nation are still here on their ancestral homelands, the piece also features red triangles that represent sights of Ho Chunk Villages in the 1800's, according to a map from the Charles Brown Papers. 
Margo enjoyed being a part of this collaboration and learning more about the WATER project. They hope Wingra Water Networks will inspire the audience to reflect on the interconnections between water, land, and people.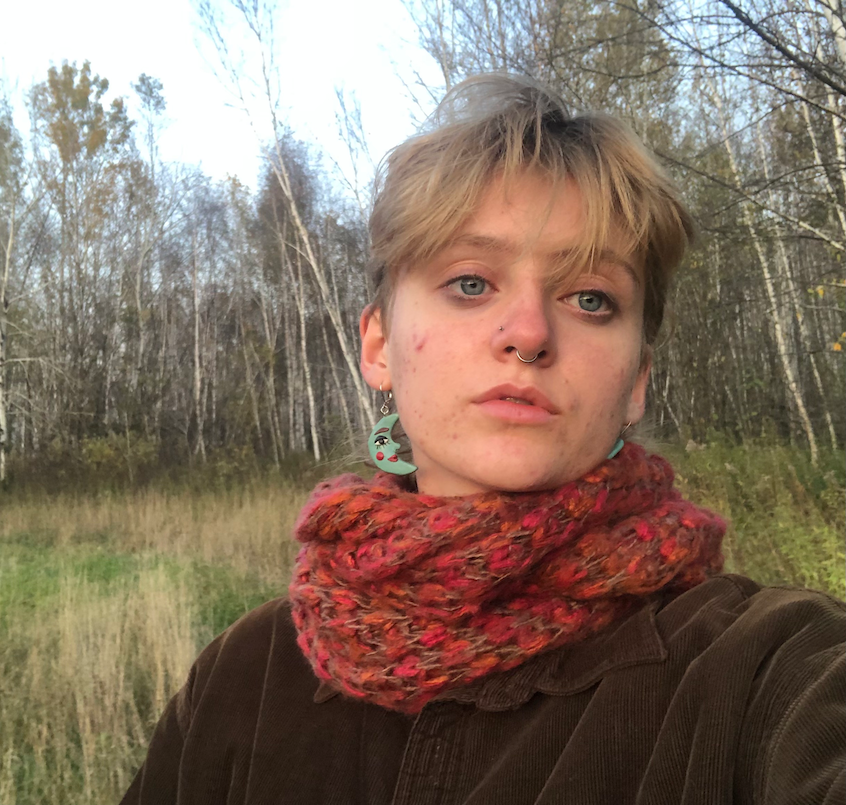 Margo Butler is a current sophomore at UW Madison pursuing a degree in Art Education and a certificate in Environmental Studies. Their personal art practice centers on exploration of their own evolving identity and their relationships to the people in their life and the natural world around them. In their free time, they love making playlists and foraging for plants and mushrooms. More of their art can be found at @art.mmar
Karen Oberhauser is the director of the UW-Madison Arboretum. While she studied monarch butterfly conservation for most of her career, she has learned more about stormwater than she ever thought possible over the past five years. Most of the stormwater that flows into Lake Wingra passes through the Arboretum, where the flow is controlled, and sediments and harmful nutrients are removed. Arboretum staff are involved in public education regarding stormwater, manage land to help mitigate downstream impacts, and support research to promote effective ongoing management.